The comet, designated C/2022 E3 (ZTF), reached to within around 100 million miles (160 million kilometers) of the sun, also known as perihelion on Thursday 12th Jan 2023. This hasn't visited Earth or the inner solar system since the last ice age according to the NASA. The comet has a short broad dust tails and a longer faint ion tail form when the solar wind interacts with the comet's coma. The comet glows in green as a result of UV radiation from the sun lighting up the gases that are streaming off the comet's surface.
 We know that comets are composed primarily of frozen gases that are heated as they approach the sun and made to glow by the sun's light. We call this cloud of gas the head or coma. As the gases warm and expand, particles of dust that were embedded in the comet's nucleus are also released into space. The solar wind blows this material out into an appendage we call the tail. To observers of antiquity, comets resembled a stellar head trailed by long hair, so they called comets, "hairy stars."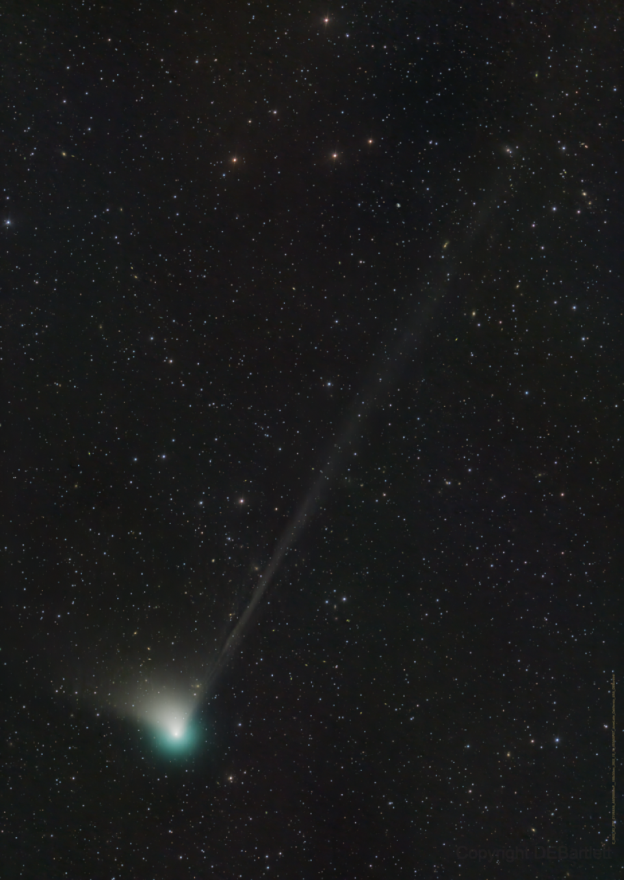 From its perihelion the comet, C/2022 E3 (ZTF), moves towards the Earth through the constellation corona borealis till 13th January 2023 where it changes magnitudes from 9.74 to  9.12. Then it enters constellations Bootes on the 14th, Draco on 19th  and Usar Minor on 24th January  and reach its closest approach to our planet on 1st February. At the perigee (the closest point to the earth) the distance between the comet and the earth is about 42million kilometers (0.28A.U) and the comet is at the constellation of Camelopardalis.
Though the comet, C/2022 E3 (ZTF), should be observable with binoculars during its closest approach to the Sun it continues to be brighten while it is approaching its perigee and become naked eye object around 5.4 magnitude on 1st February.
From Sri Lanka the comet C/2022 E3 (ZTF) can be located as follows:
12 January 2023 –closet approach to the Sun (Perihelion),
01 February 2023 – closest approach to the Earth (Perigee)
01 February 2023 – the comet reaches its brightest
Current magnitudes, Right Ascension and Declination of the comet can be obtained from https://theskylive.com/c2022e3-info#riseset
| | | | |
| --- | --- | --- | --- |
| Date | Constellation | Visible Time | Highest altitude from north – east horizon |
| 11 Jan 2023 | Corona Borealis | from 04:03 until 05:30 | 37° |
| 13 Jan 2023 | Bootes | from 03:54 until 05:31 | 38° |
| 15 Jan 2023 | Bootes | from 03:43 until 05:32 | 39° |
| 17 Jan 2023 | Bootes | from 03:33 until 05:32 | 39° |
| 19 Jan 2023 | Bootes | from 03:22 until 05:33 | 38° |
| 21 Jan 2023 | Draco | from 03:11 until 05:33 | 37° |
| 23 Jan 2023 | Draco | from 02:59 until 05:34 | 34° |
| 25 Jan 2023 | Ursa Minor | from 02:47 until 05:34 | 30° |
| 27 Jan 2023 | Ursa Minor | from 02:38 until 05:35 | 23° |
|   | Camelopardalis | Not observable |   |
| 31 Jan 2023 | Camelopardalis | from 19:38 until 01:34 | 22° |
| 01 Feb 2023 | Camelopardalis | from 19:10 until 01:25 | 33° |
| 04 Feb 2023 | Auriga | from 19:10 until 01:10 | 45° |
| 06 Feb 2023 | Auriga | from 19:10 until 00:54 | 55° |
| 08 Feb 2023 | Auriga | from 19:11 until 00:39 | 64° |
| 10 Feb 2023 | Taurus | from 19:11 until 00:24 | 71° |
| 12 Feb 2023 | Taurus | from 19:11 until 00:10 | 76° |
| 14 Feb 2023 | Taurus | from 19:11 until 23:57 | 80° |
| 16 Feb 2023 | Taurus | from 19:11 until 23:45 | 84° |
| 18 Feb 2023 | Taurus | from 19:11 until 23:33 | 85° |
| 20 Feb 2023 | Taurus | from 19:11 until 23:22 | 84° |
Comet C/2022 E3 (ZTF) Orbital elements : The following table lists the orbital elements of Comet C/2022 E3 (ZTF) at epoch 24 July 2022 00:00 UTC (JD: 2459785.5). Source: JPL Small-Body Database
Element

Symbol

Value

Orbit eccentricity

e

1.00026298

Orbit inclination

i

109.16845732°

Perihelion distance

q

1.11225612 AU
166,391,147 km

Aphelion distance

Q

n.a.

Semi-major axis

a

n.a.

Orbital period

period

n.a.

Date of perihelion transit

Tp

2023-Jan-12 18:54:51
2,459,957.2881 JD

Argument of perihelion

peri

145.81496913532°

Longitude of the ascending node

node

302.55371928557°

Mean anomaly

M

-0.00061555107534053°

Mean motion

n

0.00000358°/day