Rare Planetary Alignment of Jupiter – Saturn on  21st December, 2020
As observed from the Earth, Saturn and Jupiter are getting closer to each other in the evening western sky. They will have a historically closest approach of fewer than 0.1 degrees (about 6 arc seconds), about 1/5 of a full moon diameter, on 21st December 2020. Two planets will appear as a big "single star" to the naked eye and can be observed just after the sunset between the west and south-west direction about 20 degrees above the horizon until they will set around 8:20 pm.
In astronomy, when two celestial objects have the same celestial longitudes (right ascension) it is called a conjunction. The "Great conjunction" is when Jupiter and Saturn are in conjunction. Following table shows angular distance between Jupiter and Saturn during the 10 days prior to the conjunction on 21st December.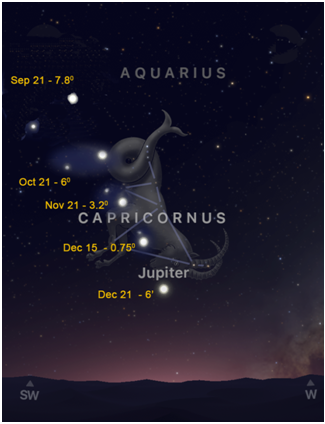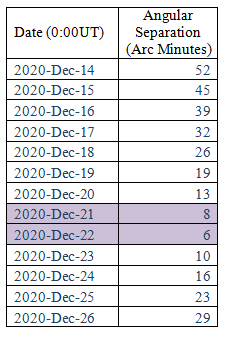 As Jupiter takes 11.9 years and Saturn takes 29.5 years to orbit around the Sun, in every about 20 years Jupiter and Saturn appear closer together in the sky.  The significant of this Great conjunction is that it is the closest Jupiter-Saturn conjunction (about 6 arc minutes separation) since 1623, only 14 years after Galileo made his first telescope. But it is considered unlikely that this conjunction was noticed by many because it was only 13 degrees east of the Sun, closely following the Sun at sunset. The closest observable Jupiter-Saturn conjunction before that was in 1226. The next such closest Jupiter-Saturn conjunction will occur in 2080.
You don't need a binocular or a telescope to see this Jupiter-Saturn conjunction. Such a close event will allow telescopic observers a chance to study these two gas-giant worlds side by side in the same field of view at high magnifications.
Because of the Covid-19 pandemic situation, the Arthur C. Clarke Institute is not in a position to conduct a public observation session for this event. We request and encourage astronomy enthusiasts who have cameras and telescopes to capture this once-in-a-lifetime closest Jupiter-Saturn conjunction.