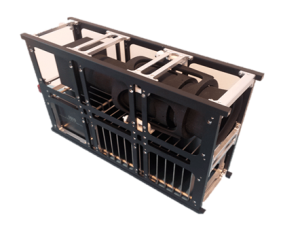 Project Objective 
To do observations of Sri Lankan land surface, oceans and atmosphere using the reflectance methodology
Specifications
Size: 6U Cubesat (300mm × 200mm × 100mm)
Attitude: 600km
Orbit: Circular Sun synchronous Polar Orbit (Under Detail Study)
Payload: 6.5m GSD with 26km swath and five spectral bands (blue, green, red, red edge and infrared)
Lifetime: 3 years
Budget: Rs. 600Mn
Project Duration: 5 years
Expected Project Outputs
This project would be a stepping stone to a space era in the country. This mission will build the Country's basic confidence on Space Technologies and create a strong foundation for manufacturing satellites having longer life time and more Remote Sensing and scientific capabilities.
Finally, the implementation of this project will create an environment for the Sri Lankan Universities and other Institutions to introduce new taught/research space technology degrees/ PG degrees and other appropriate training programmes, enabling many enthusiastic students to pursue to take up these degrees and create space knowledgeable resource people for expansion of this industry. At the same time this would create many jobs in space industry.
In terms of Remote Sensing Technologies, this would enable to enhance operational efficiency and effectiveness of the relevant pubic sector stakeholder agencies.
Kickoff Workshop on the Nano Satellite Programme 
The kickoff workshop on development of Sri Lanka's first ever nano satellite is scheduled to begin on August 15, 2016 in technical collaboration with globally renowned university / space rocket center